---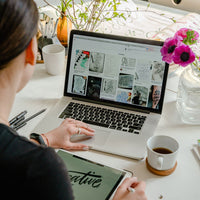 Etsy Shop Audit
You have your Etsy shop all set up!  You're super excited to finally have this complete and to sell you handmade goods. You patiently wait for sales to come in, and you wait, and you wait. You either have no sales coming in or just a few here and there and start to feel frustrated.
I know that feeling. I have been there before. My first few months on Etsy I had zero sales. Then I learned how to set my shop and listings up correctly and in that first year I made over $20,000 in sales!
Today my Etsy shop has sold more than 98.5% of Etsy shops and I have been able to scale my business making Etsy one of the streams of my business.
I know that if I had someone to audit my Etsy shop when I was struggling, I would have been able to have success faster. That's why I decided to offer Etsy shop audits. I want you to have success in your handmade business as well.
Here is what you get when you book and Etsy shop audit.
1. An audit of your entire shop.
2. An action plan for you to improve your shop.
3. Your title, tags, and description for one of your listings that you can use to fix the SEO for the rest of your listings.
All of this will be back to you within 3-5 business days.
Please make sure you enter an accurate email address at checkout. I will email the email address you sent after your purchase is completed to get the name of your Etsy Shop.
PS. If you use shop pay to split the payments, your audit will start 3-5 business days after all payments are completed.