---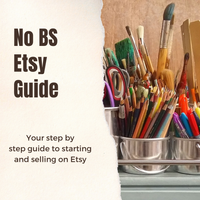 No BS Etsy Guide
Start and set up your Etsy Shop with ease. Stop the overwhelm and start making some money on Etsy!
You know that the next step to growing your handmade business is to start selling on Etsy. Maybe you have already opened your Etsy shop, but got overwhelmed on how to set it up and abandoned it.
I know how you feel, I was there once too. In fact I refused to sell on Etsy for months because I was scared. What if I failed? What if I succeeded? 
But as it turns out, opening my Etsy shop was the best business decision I have ever made. It is what catapulted me into working a full time for my business and I want the same for you.
 Anyone can sell on Etsy if you have the tools to learn the platform and set up your shop correctly. 
This Etsy guide will walk you through step by step how to start of set up your Etsy shop the right way. These steps are what helped me to become a top 5% Etsy seller for the last 6 years.
In this 19 page guide you will.....
1. Learn how to set up your shop
2. Understand Etsy fees
3. Learn Etsy SEO and how to write your listings
4. Understand the Star Seller Program
5. Learn how to get customer reviews
6. Learn how to set up sales and discounts
7. Get additional free resources to help grow your Etsy shop.
This guide is only $67 with payment plans available (if you qualify) so that you can get your shop started without having to invest in a ton of money.
So grab yours today ang start making fucking money on Etsy. 
Please note that since this is a digital product, no refunds will be issued.