---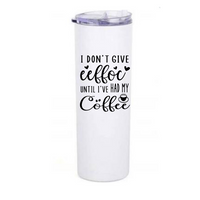 I DON'T GIVE EEFFOC UNTIL I'VE HAD MY COFFEE TRAVELER
WE KNOW YOUR SECRET.
Because we have the same one: we're desperate for free time, missing the days when we could do whatever the f*ck we wanted without answering to anyone else. But that's not our reality, so we smile and sip our coffee (or wine—we don't judge) anyway, smiling at the memories and vowing to show up as the best mom we can be every single day.
BUT WHY NOT MAKE THOSE SMALL MOMENTS A LITTLE MORE SPICY?
IN COMES THE BEST SELLING COFFEE TUMBLER
IDGAF TIL I'VE HAD MY COFFEE
Because, let's be honest, you can't be expected to care about anything until you've had your daily dose of caffeine.
In the morning, I cannot hear without my glasses on and I do not give eeffoc about what I hear until I have had my coffee. When that caffeine hits my soul I become my best self, I excel at sweary mom shit, AND I look hella cute doing so with this in hand.
20 oz stainless steel coffee tumbler to 

carry your soul through the day. 

Sliding closing lid & a reusable straw repping some eco-friendly consumerism.

Hand wash to preserve the design